Can you really believe we didnīt like Tahiti and Moorea? Itīs true.
When we came to Tahiti we thougth Tahiti would be such a beautiful Island: flowers and friendly people everywhere. But unfortunately, this was just our dream. The hotels were extremely expensive and the overall quality was unacceptable. It was impossible to find a room under 100 euros. If you would like to have accommondation in a nice cottage above the water (the kind of picture they normally have in their brochure), you should pay about 600 euros/night!
The food was also incredibly expensive in their shops; its quality was bad and the selection was non-existent. It was hard to find anything decent to eat for a reasonable price. Of course, the island had plenty of restaurants, mostly Frenchstyle, but it would have been impossible to eat in such an expensive restaurant every day.
The islanders were somewhat unpolite and rude, and they didnīt seem to be fond of children. We didnīt like the people too much. They donīt have a service culture, and noboby doesnīt want to do anything extra. It would be free to say "here you are" or "thank you", but they don't find that necessary.
Further this, it rained every day, and there was nothing to do in rainy days. So, we changed our flight tickets to earlier flight, and finally, we stayed there six days. It was absolutely enought.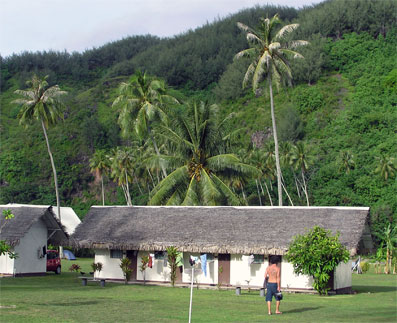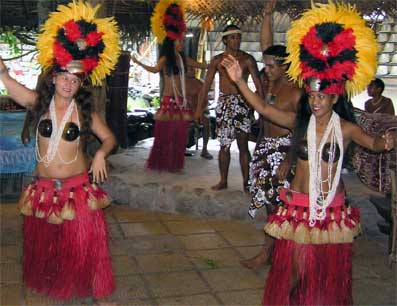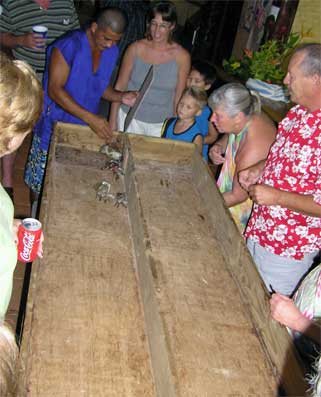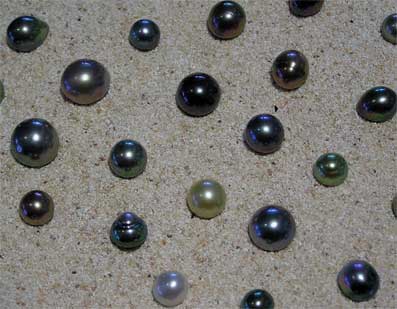 Our hotel had arrainged the crab race
Famous black pearls
Local dance show
Our first accomondation - cottage