<![if !vml]>

<![endif]>
There are so many nice places to visit around Brisbane. We are staying here for only 10 weeks and it's not enought time to see everything. On the Weekdays we are too busy with our school to go anywhere, but at the weekends we have rented a car and have had very nice trips.
Last Saturday we were in Byron Bay. It's about 170 km south from Brisbane. The place is a paradise for surfers and people who enjoy spending their time on the beach. I think that they have Autralian's most beautiful beaches there. They always have quite strong waves there and so it's a very popular place for surfers. Many surfers live there in hippistyle communities and just want to go surfing every day.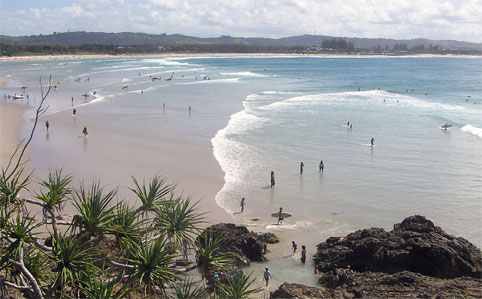 Byron Bay beach
On Sunday we went on a trip to north of Brisbane. We drove 150 km from Brisbane to Noosa. There is a very famous National Park, where we went bushwalking. We enjoyed trekking there, it was cool in the forest and we saw some interesting animals there like lizards and colourful birds. After bushwalking we spent a nice time on Noosas's silent and peaceful beach.

Lizard eating egg
On week ago I (Jaana) had a Day Tour Adventure on Moreton Island, which is the world's second largest sand island is near to Brisbane. We drove a 4 WD car around the island and once our car got bogged in the sand. We pushed and pushed the car and finally it went up and we could continue trip. We did very special activities on the island; we climbed the desert sandhills for sandboarding at a high speed, and we swam in fresh turquoise waters of Blue Lagoon. Sometimes it's possible to see turtles, whales and other big fish. We weren't lucky enough to see anything, it isn't a good season to see these creatures at the moment. But it was still a very nice trip and I enjoyed seeing sand island.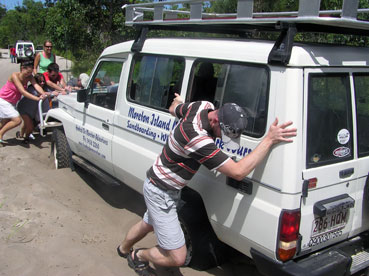 Bogged in Moreton Island