We arrived at Los Angeles almost one week earlier than we had planned. But, it was wonderful to come here: the life became easy and nice again after Tahiti.
We rented a car, because itīs impossible to go anywhere in the USA without a car, and itīs quite cheap to rent a car here. Cars are so big here, that it wasnīt difficult to pack our backpacks into carīs trunk (and we had 7 backpacks). Tero enjoyed driving his Chevrolet Impala, because the car was quite new and had automatic transmission. Californian highways are in good condition. Itīs very easy to drive here, because the traffic culture is one of the best in the world and the people are used to drive.
We drove south to San Diego and stayed there for three days. We liked San Diego; it was a special city with a lot of Mexican influences. Mecixo is very near, just 15 minutes by car to Tijuana. We visited there one day, too. Most of the people go there to shop for one day, just like we go to Tallinn from Helsinki. They buy alcohol, medicines, clothes, and souveniers from there. Itīs cheaper, for example, the medicines are -30%, and itīs very popular to buy Viagra there.
We also spent one day in Legoland near San Diego. The boys liked the theme park very much. They have a lot of Legos in their backbacks, and they always want to build with them in our hotel room. The Legoland was a Heaven for them. And of course, we bought more Legos for them...
From San Diego, we drove to Los Angeles. We stayed for three days at Hollywood Boulevard, where we found many famous actors' names on the Walk of Fame. Some of the actors had also printed their hands and feet into the cement in the front of the famous Chinese Theather. We also visited the Kodak Theatre, where they give awards to the best actors in the Oscar Gala. And of course, we bought a Star Home Map and found some of the homes in Beverly Hills, like Brad Pitt's, Sharon Stone's, and Nicholas Cage's.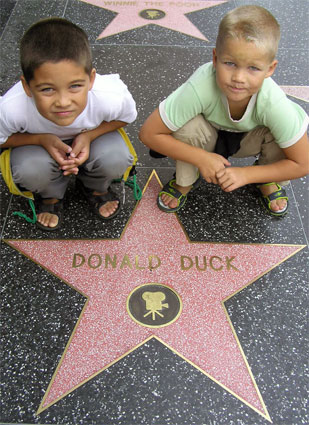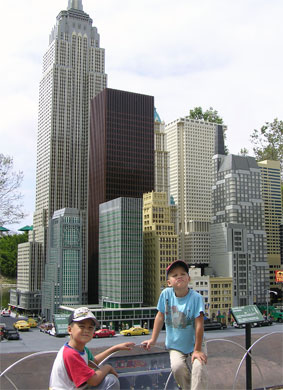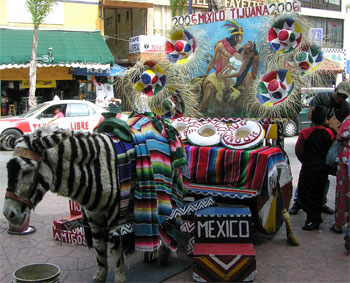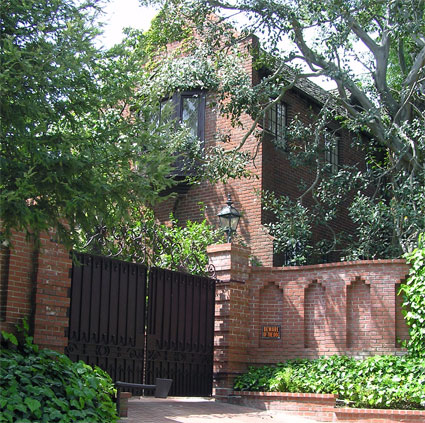 In Legoland
Home of Nicholas Cage
You can have a real Mexican foto